Paul Molloy
CEO
Paul is a serial entrepreneur and medical device industry veteran with twenty-five years experience of leading public, private and VC-funded healthcare companies. He has served on the Board and Audit Committee at CAS Medical (NASDAQ, CASM) prior to its acquisition by Edwards and on the Board at Revolutionary Medical Devices prior to its acquisition by Vyair. He currently serves on the Board at Inscope Inc. and is an advisor to several Silicon Valley technology firms. Previously, he was a Board member at MiCardia, LMA and VasoNova.
Before joining ClearFlow, Paul was CEO at VasoNova Inc., a Silicon Valley based, venture-funded vascular navigation company acquired by Teleflex Inc. (NYSE, TFX), in January 2011. Following the acquisition, he was appointed President of Teleflex' largest division – ARROW Vascular – having full P&L responsibilities for direct sales, US and overseas manufacturing plants, R&D and strategic planning at corporate level. Under his tenure VasoNova was successfully integrated under the ARROW Vascular brand. Prior to VasoNova, Paul was President and Managing Director of LMA, overseeing all European and Asian subsidiaries. Paul took LMA public in 2005 and later brokered its acquisition by Teleflex in 2012.
Paul started his career as a practicing CRNA (Certified Registered Nurse Anesthetist) at Medical University Alkmaar in the Netherlands. In 1989 he joined Datascope Corp. where he progressed through successive corporate roles with growing responsibilities. He has extensive global industry connections and is well-versed in setting up and managing international operations. He has traveled, lived and worked in Europe, Asia and the USA and is fluent in German, Dutch and English. Paul holds an MBA from the University of Chicago's Booth School of Business.
Ed Boyle
Founder and Chairman
Dr. Boyle is a Cardiovascular and Thoracic Surgeon in Bend, Oregon whose career spans clinical surgery, cardiovascular research, and medical innovation. He studied medicine at University of Minnesota Medical School, and trained in general surgery and cardiothoracic surgery at the University of Washington.
During his clinical training at the University of Washington, he helped lead the Cardiovascular Vascular Biology research team where he developed basic science and clinical research programs, primarily focusing on the study of tissue injury, coagulation and inflammation. Dr. Boyle has published over 75 manuscripts in peer reviewed medical journals and textbooks. In addition to obtaining NIH funding, he played a lead role in developing research collaborations with Bayer's Pharmaceutical Division, Genentech, Zymogenetics/Novo Nordisk, Icos Corporation, US Surgical Corporation (now Covidien) and other privately held biotechnology and device companies. His research has been recognized nationally with awards from the American College of Surgeons, the American Heart Association, The Western Thoracic Surgery Association, the Seattle Surgical Society and others.
Dr. Boyle was a founder of Elixis, a healthcare information technology company which was acquired by Data Critical Corporation (NASDAQ: DCCA), now a division of General Electric (NYSE: GE). Dr. Boyle is the founder of MDI, VenX, and Precision Thoracic Corporation, all early stage medical device companies where he is an inventor on a number of medical devices patent applications.
Al Diaz
Vice President of Operations
Al has over 25 years of experience in medical device manufacturing and operations in implantable and non-implantable devices, lasers and fiber optic delivery systems. He started his career in Quality Assurance in 1977 with Shiley Surgical Division (later Pfizer). Al has significant corporate experience in senior management operations in large, start-ups and small firms. Al consulted for the Federal Trade Commission (FTC) as Interim Trustee, Medtronic/Baxter (Avecor Blood Pump System technology transfer). He served as a Board member for Cardiac Output Technologies, Inc. (formerly Polycomp Services) and as Managing Director of Polycomp Investment Group LLC. Al holds a Bachelor in Business Administration from the University of LaVerne and a two year certificate program in World Class Operations from the University of California Irvine (UCI).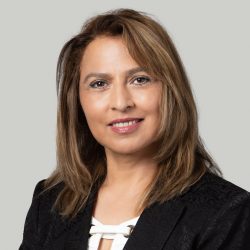 Serrah Namini
Vice President RA, CA, QA
Serrah's extensive experience includes ten years with the FDA as Consumer Safety Officer and Pacific Region Team Leader for Radiological Health team as well as four years working with Notified Bodies including Intertek. She has led global regulatory and quality departments and consulted for FDA regulated companies including startup, medium and large multi-site companies such as: USMC (orthopedics and prosthetics), Rhythm Technologies (electrophysiology PMA devices), Applied Medical (surgical devices), Nihon Kohden (patient monitors, EEG, EKG, EMG devices) and Karl Storz (surgical devices/monitors and endoscopes). She has prepared and submitted numerous successful 510(k)s for class II and III medical devices including implantable, electronics, software, lasers, electro-mechanical, surgical, and sterile. She has also setup Quality Assurance programs with validation processes to meet domestic and international standards/regulations including MDSAP requirements.
Her experience along with her education in Biomedical and Electrical Engineering provides a unique opportunity for ClearFlow to expand its domestic and international presence.
James Herlofsky
Director of Clinical Training
James Herlofsky, M.D. is a medical professional who brings a unique perspective to medical device education. He received his Bachelor of Science degree in Psychology from Loyola Marymount University in Los Angeles, California, before earning his M.D. from a U.S. accredited medical school in San Jose, Costa Rica. After returning to his hometown of Los Angeles, James served as the Practice Manager for a thriving West L.A.-based private medical practice, while simultaneously holding the position of administrator for an ambulatory surgical center. James speaks fluent Spanish in addition to his native English, which has allowed him to lead a number of international clinical and sales training sessions. James' marketing and clinical background, along with his medical practice management experience, have provided him with an extensive variety of viewpoints within the healthcare industry, resulting in the unique perspective he brings to his role as Director of Clinical Education.
Tony Mathiason
U.S. Sales Director
Tony brings over 25 years of medical sales experience, the last 18 in the Cardiovascular space, with a specific emphasis on new, emerging technologies. Prior to joining ClearFlow in 2015, Tony held Regional and Territory Sales Manager positions at n-Contact, On-X Life Technologies, AtriCure and U.S. Surgical. Tony has demonstrated consistent success working in the start-up environment, and brings a breadth of knowledge on how to move a product from infancy of use to broad market acceptance. Tony has spent his entire medical sales career in Houston, Texas and holds a Bachelors of Arts Degree from the University of Houston.
Ken Chesnin
Director of R&D and Engineering
Ken is responsible for product development, engineering and IP management. He has 14 years of experience in product development and design of medical devices. Most recently he was Director of Sensor Development at GluMetrics, Inc., a venture backed company that developed a novel blood–based sensor for real-time measurement of glucose. Previously he led an engineering team at Medical Components (Medcomp) that developed and commercialized numerous FDA class II and III vascular devices. He was also Principal Engineer at Martech Medical, where he worked with startups and Fortune 500 companies to manufacture numerous medical devices and components. His experience spans idea generation, prototyping, manufacturing, design validation and process validation. He is an inventor on eight issued US utility patents and numerous design patents. Prior to his career in device development, he conducted biomechanics research at Thomas Jefferson University where he developed models for analyzing human movement. He holds a MS degree in Biomedical Engineering from Drexel University and a BS in Mechanical Engineering from State University of NY at Buffalo.
Hannah Beathard
Director of Finance
As Director of Finance, Hannah oversees all accounting and finance functions.  Hannah is a Certified Public Accountant with a background in the assurance practice at PricewaterhouseCoopers.  During her tenure with PricewaterhouseCoopers, Hannah played a key role in developing processes and strategies to have effective and efficient audit engagements.  Hannah worked directly with firm partners and audit clients to plan and execute quarterly reviews and year-end audits in conjunction with year-round SEC filings (10-Q and 10-K) and government compliance audit deliverables. There she gained extensive experience auditing a wide array of industries ranging from healthcare to large cap manufacturing companies, both private and multinational publicly traded companies.  She earned her bachelor's degree in Accounting and Finance from the University of Delaware and is a member of the American Institute of CPAs.  Hannah has remained consistently involved in the community, most recently serving as Treasurer on the Board of Girls on the Run – San Diego and as a volunteer mentor for Junior Achievement, educating youth in low income areas on financial literacy and fiscal responsibility.