Clinical data shows the significant benefits of PleuraFlow ACT
A clinical evaluation of PleuraFlow® ACT was recently completed at Klinikum Nürnberg Heart Center in Germany. The study compared Retained Blood Syndrome (RBS) reintervention rates in patients treated with conventional chest tubes after cardiothoracic surgery and those treated with PleuraFlow ACT.16
PleuraFlow ACT reduces RBS reinterventions 16
Without PleuraFlow ACT, RBS reinterventions return to baseline16
In that same study, the hospital's baseline rate for Retained Blood Syndrome (RBS) reinterventions was reduced from 20% to 11% in patients treated with PleuraFlow ACT – a statistically significant drop of 43% (p=0.0087). At the conclusion of the trial, conventional chest tubes were reintroduced and RBS rates climbed back to baseline at 18% (not statistically different from baseline p=0.54)16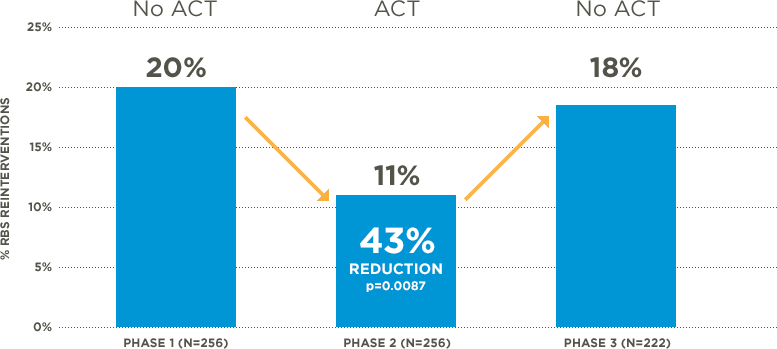 PleuraFlow ACT benefits both your patients and your hospital
Improve outcomes
By eliminating accumulated blood and fluid at the surgical site, you reduce the occurrence of Retained Blood Syndrome (RBS) complications. Plus, you never again have to break sterility or "milk and strip" in order to clear a clogged tube.
Minimize discomfort
The 20FR PleuraFlow removes nearly triple the amount of blood over a conventional 32FR chest tube1 (525 ml vs. 183 ml) and your patients will benefit from a smaller and more flexible silicone tube.
Reduce costs
The average cost to treat a patient with one or more Retained Blood Syndrome (RBS) complications that require a reintervention or re-operation is $28,814.15
See what others are saying about PleuraFlow ACT
"It's vital to be able to rely upon an effective chest drainage modality and PleuraFlow is the best solution I know of. Active Clearance Technology provides a degree of comfort and confidence impossible with conventional drainage systems."
Simon Maltais, MD, PhD.
Associate Professor of Surgery,
Sr. Associate Consultant in the Division of Cardiovascular Surgery, Mayo Clinic Hospital
"I have used PleuraFlow on all my patients since 2013 and regard it as a standard of care in my postoperative care bundle. The device is safe and efficacious requiring no change in clinical practice. I can unreservedly recommend it to other surgeons."
Mark Gillinov, MD
Judith Dion Pyle Chair in Heart Valve Research
Department of Thoracic & Cardiovascular Surgery, Cleveland Clinic
"I believe strongly that PleuraFlow catheters have the potential to not only improve chest tube drainage, thus improving the patient's postoperative experience but in some situations may prevent life-threatening complications associated with clogged chest tubes."
Jill Ley, RN, MS, CNS
Clinical Nurse Specialist, Cardiac Surgery
California Pacific Medical Center
Clinical Professor, UCSF
"I am convinced that blood orphaned in the thoracic space after cardiac surgery can cause not only the acute problems we all see, but also more pernicious and chronic inflammatory consequences that affect many organs detrimentally. It is vital that chest drain patency is maintained in the first 24 hours after surgery and there is no better way to do that than PleuraFlow."
Louis Perrault, MD, Ph.D.
Chief of Service, Department of Surgery, Cardiovascular & Thoracic Surgery
Montreal Heart Institute
"I regard the maintenance of chest drain patency as absolutely vital. PleuraFlow performs consistently and reliably in keeping chest tubes clear and preventing clogging – something I was unable to safeguard prior to adopting the use of this device. The peace of mind that this system has provided my team has been significant."
Patrick McConnell, MD
Attending Surgeon
Department Cardiothoracic Surgery
Nationwide Children's Hospital
Assistant Professor of Surgery,
Ohio State University College of Medicine
"We have evaluated the PleuraFlow ACT system in hundreds of patients safely and effectively over three years at our center in Germany. The device is superior to conventional drainage options and in our patients resulted in substantially lower incidence of complications that typically occur when blood is incompletely evacuated from the chest."
Prof. Dr. Med. Theodor Fischlein
Department of Cardiac Surgery
Paracelsus Medical University
Klinikum Nürnberg, Germany